The Alderney Flying Club is holding our 2021 Fly-in over the weekend of Friday 15th October to Sunday 17th October and looks forward to welcoming many of you back again after COVID-19 restrictions forced to to cancel the Alderney Fly-in last year.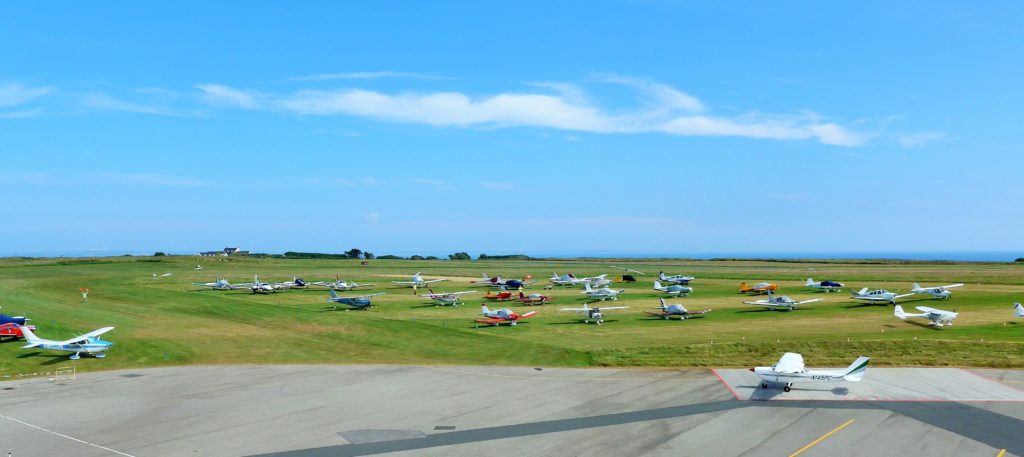 Registration now open!
Please decide which eventsyou would like to attend and then REGISTER HERE for the Fly-in. Please indicate which events you would like to participate in and how many places you would like for each event. We will then issue you a fly-in number by email which should be added to field 18 (other Information) of your flight plan. There is no need to book an arrival slot.

We expect the Gala Dinner on Saturday to be oversubscribed as there are only 70 places. Therefore we are asking that you reserve your place(s) with a £15/head deposit. The deposit will be refunded for cancelations received on or before Wednesday October 13th. For cancelations after this date, deposits will be returned only if we can resell the ticket.
Payment
Options for payment of the deposit are:
1 -Bank Transfer:
Alderney Flying Club
HSBC Alderney Branch
Sort code 40-22-25
Acc. No. 11171771
Ref: please add your name so we know who it is from.
2 – Cheque made out to "Alderney Flying Club" and posted to :-
Alderney Flying Club, P.O. Box 1133, Alderney GY9 3ER
A receipt will be sent by e-mail. However, it will help if you send an email to chairman@flyalderney.com once you have made the payment so we can keep an eye out for it.

Programme of events
Friday 15th October
1200 – 1930
Meet & Greet in the Hangar
Location: Airfield
Please note there is a free shuttle to hotels and other accommodation.

1900 – 2000
Welcome Reception
Location: The Moorings, Braye Street
Enjoy a free welcome drink courtesy of the Alderney Chamber of Commerce. Stay on for the BBQ supper.

2000 – Until Late
BBQ Supper
Location: The Moorings, Braye Street
£16 per person. Pre-Booking is essential (book on Registration Form).
Alternatively, book for dinner at any of the restaurants here.
Saturday 16th October
09:00 – 1200
Victoria Street Market
Stroll down and view the stalls at the bottom of Victoria Street.

11:00-12:30
Guided Tour of Alderney's Historic Roman Fort and the 'Odeon'
Location: Starts at the Gates of the Nunnery. Request Transportation, if required.

Discover 2,000 years of Alderney's history at the Longis Bay Heritage Site. Alderney's historic Roman Fort was originally built in the 4th century to defend the anchorage in Longis Bay harbour and the nearby Roman settlement. The The Fort is one of the best examples of small Roman fort in Western Europe.
Next, it's a short walk to the "Odeon" a massive Maritime Fire Direction Tower built by forced labourers during the German Occupation of the Island (1940-1945). Recently reopened to the public there are 4 floors to explore with information boards and a film of life on the island with eye witness testimony from slave labour camp survivors and German soldiers. On a clear day, the observation levels, one of which has a telescope, offer amazing views to France.
Cost: £6 per person. Pre-Booking essential. (book on Registration Form)
14:00 – 18:00
Visit the Tower
Location: ATC Tower, Airfield

14:00-18:00
Round the Island Scenic Flights
Location: Airfield
Use your own aircraft to fly round the Island, and maybe take in the Casquets Lighthouse as well. Book slot on the day with ATC

14:00 – 16:00
Alderney History and Wildlife Guided Bus Tour £20pp. Discover the diversity of Alderney 'from the Romans to Red Admirals'.
Board minibus at the bottom of Victoria Street at 1400 (or alternative pick up points by prior arrangement).
Pre-Booking essential. (book on Registration Form)
Minimum of 6 people required
14:00- 15:30
Wildlife and Heritage Boat Trip
Location: Harbour; Meet outside Alderney Sailing Club
Price: £25/per head. Pre-Booking essential. (book on Registration Form)

15:30-17:00
Wildlife and Heritage Boat Trip
Location: Harbour; Meet outside Alderney Sailing Club
Price: £25/per head Pre-Booking Essential. (book on Registration Form)

19:00 – Until Late
Gala Dinner and Prize Giving with Live Music
Location: Georgian House Hotel
Price: £38/per head (menu available late September) – Pre-Booking Essential with £15 deposit (book on Registration Form)
Pay Bar. Live music
Sunday 17th October
09:00 – Onwards
Airport Shuttle
A free shuttle bus from hotels and other accommodation to the airfield. Call 07711 142 858
Location: Hangar

09:45 sharp for 1000 start – no late entries:
Clay pigeon shooting
Shoot those pesky Clays in a Victorian fort with great views
Location: Fort Albert Pre-Booking essential. Call Chris Reeves 07911 723 2311
£15 per person including equipment and 25 rounds of ammunition (Tuition available)

More things to See and Do…
See the original of our famous Alderney Bayeux Tapestry 'Finale' in the Alderney Library. Open Saturday 1000-1230. This highly acclaimed tapestry involving over 400 'stitchers', including HRH The Prince of Wales and The Duchess of Cornwall, has been exhibited at the Bayeux Tapestry Museum and at different historic locations across the UK and the Channel Islands.

Visit the award-winning Alderney Museum – Elizabethan Wreck, WW2, and much more!
Weekend opening hours: 1000-1200noon

Have a go at Petanque on our new piste overlooking Braye Beach (next to the Moorings). Get your boules from The Moorings (deposit will be refunded on return of boules). Or how about a game of golf at Alderney's scenic, but challenging golf course? Call 01481 822835 to book (golf clubs for hire)
Finally, don't forget there a dozen trophies to win.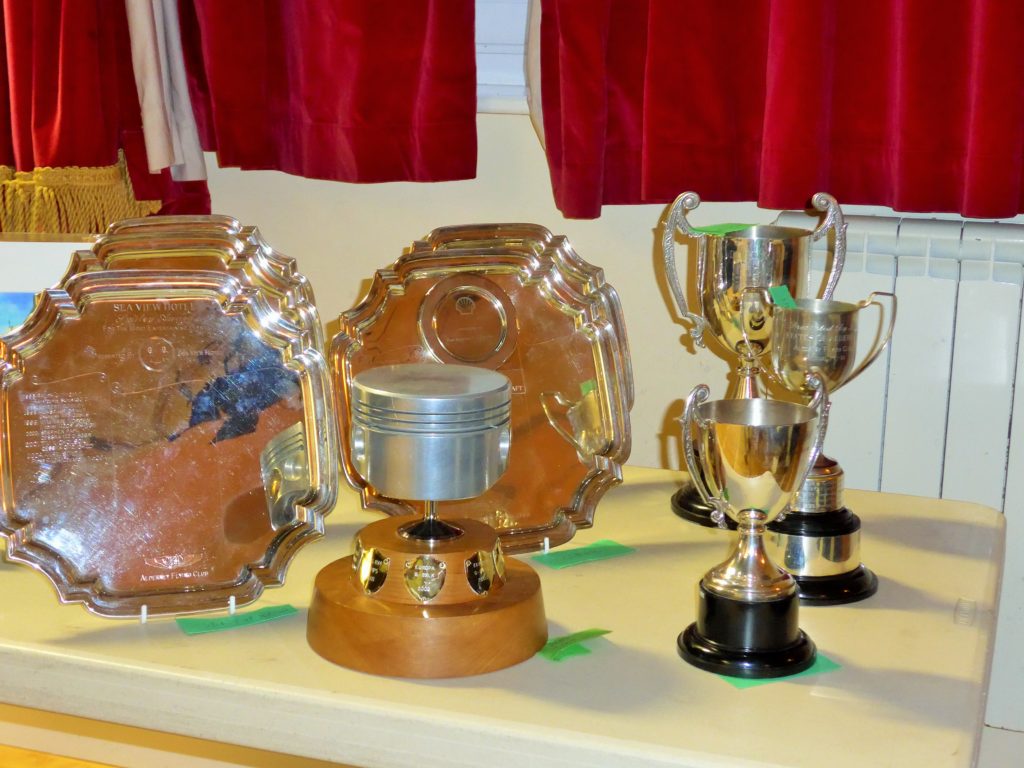 The following is a list of trophy winners in 2019…
Longest Distance Flown
D-EVFG BE35 – Hubertus Sangermann from EDKU Attendorn (near Cologne) 660km
Largest Entry from a UK Club
Blackbushe Flying Group
Best Vintage Aircraft
G-AWWO Jodell DR1050 1964 cared for by Bill & Judy Brookes
Best Classic Aircraft
G-PSRT PA28-151 Warrior – Bob Nash from Enstone
Best Modern Aircraft
G-FMLY Commander 114b – Peter Jackson from Biggin Hill
Best Home-Built Aircraft
OO-H86 B&F technik FK14 Le Mans – Marc Fives from Saint-Ghislain (EBSG)
Best External Finish/Colour Scheme
G-ETIV ROBIN DR400-180 – Charles Prior
Most Interesting Aircraft
Three V-Tail Bonanza BE35:
G-APTY: flown by George Brennand
D-EVFG: flown by Hubertus Sangermann
G-ARKJ: flown by Hugh Smith
Senior Pilot (Flying to the event as P1)
George Brennand (87)
Junior Pilot (Flying to the event as P1)
Will Gilbert
Spirit of the Fly-In
Matt Altass with G-CUBA based at Denham
Special award: Best Ambassador for Alderney and the Fly-In
Marc Naylor based at Exeter (and facebook)